Serves 8 people
Cooks in: 3hrs 35min
Ingredients
50 g plain flour
2.5 kg quality trimmed oxtail, cut into rounds (ask your butcher to do this)
500 g shallots
3 cloves of garlic
5-6 5cm pieces of ginger
olive oil
1 teaspoon ground cloves
1 whole nutmeg , for grating
1 large orange or 2-3 strips of dried orange peel
1 punnet of dates (soft, such as medjool, or semi-dried work best)
balsamic or sherry vinegar
BRAISED KALE
1 large bunch of kale
3 thick slices of streaky bacon
1 clove of garlic
1 fresh red chilli , or to taste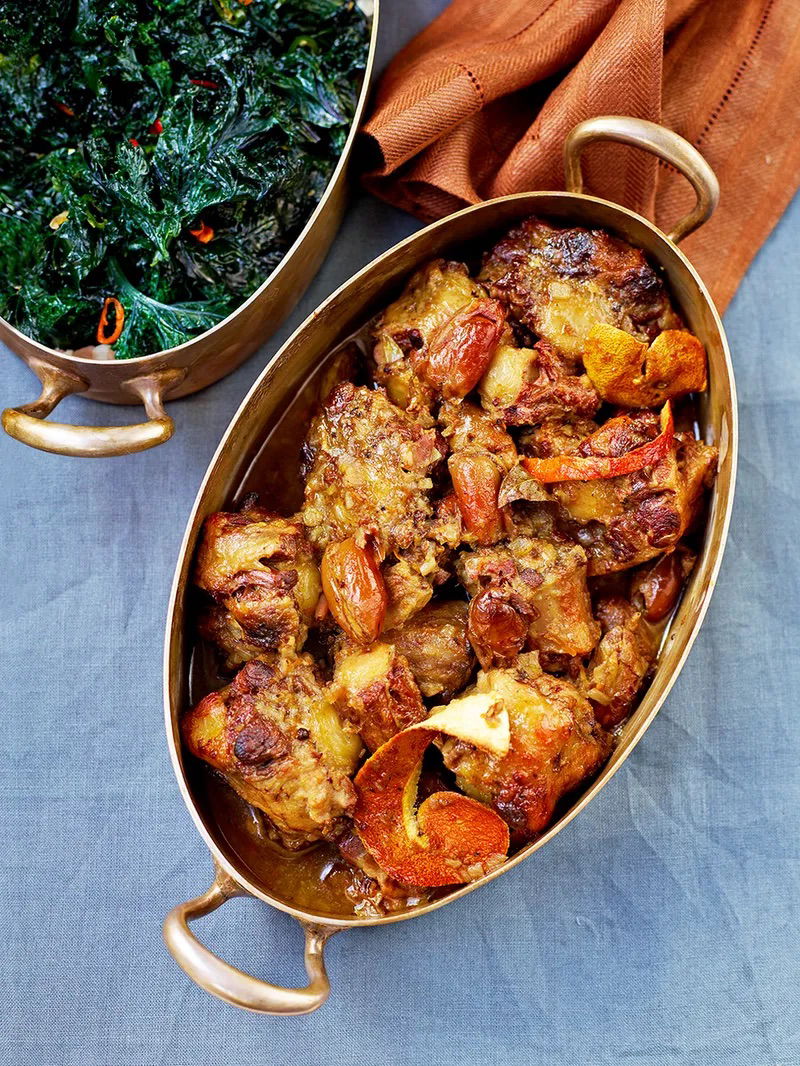 Method
Preheat the oven to 200ºC/gas 6.
Season the flour with sea salt and black pepper, then use it to dredge the oxtail till well coated. Shake off the excess flour and set the meat aside.
Peel and finely dice the shallots. Peel and finely slice the garlic, then peel and grate the ginger.
Heat 2 tablespoons of oil in a large shallow frying pan over a medium-low heat and gently cook the shallots and garlic until fragrant but not coloured. Transfer to a large ovenproof dish and set aside.
Heat 2 to 3 tablespoons more oil to the same pan on a medium-high heat and brown the oxtail all over, in batches if necessary.
Pack the oxtail over the shallots and garlic, then add the cloves, fresh ginger and a good grating of nutmeg. Add the peel from the fresh orange or use dried orange peel, then cover with 2cm to 3cm of water.
Place in the oven for 15 minutes, then reduce the temperature to 140ºC/gas 1. Gently simmer for around 2 hours 30 minutes (depending on how big the bones are), or until the meat is just tender. Check the liquid level from time to time, adding more water if necessary.
Taste and season, then destone and add the dates and the vinegar. Continue to cook for another 30 minutes, or until the dates are plump and the meat is tender but not yet falling off the bones.
Blanch the kale in boiling salted water for 3 to 4 minutes, then drain well.
Dice the bacon, then peel and finely slice the garlic. Fry together till cooked, then turn off the heat. Finely chop and stir in the chilli along with the kale.
Remove the oxtail from the oven and skim any excess fat from the surface. Serve the oxtail pieces with a few dates, some of the juices and the braised kale.
Recipe from: www.jamieoliver.com