Bubble tea or "boba", as it's more commonly known, is a blend, using tea concentrate, as a base, and then adding ice, fruit and/or fruit juices, along with bursting boba or popping pearls, which explode in your mouth when you bite into it.
Stein says young South Africans can't get enough of it. "I think it's the distinct taste and variety of colours and flavours of bubble tea that excite them.
"Everywhere else in the world, bubble tea is made from black or green tea and tends to be quite bitter. I wanted to create something different, so I experimented with Rooibos and it's by far our best seller. Unlike other types of tea that have an acquired taste, Rooibos is flavourful and full-bodied. Its naturally sweet profile with notes of vanilla, honey and caramel blends well with pretty much any fruit or boba that's added to bubble tea, making it the perfect base.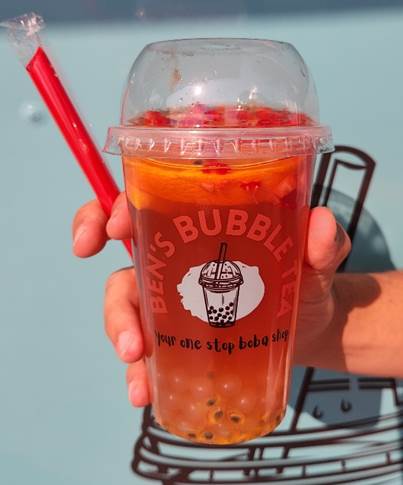 "We currently have more than five Rooibos bubble tea flavours to choose from, which include mixed berry, mango, passion fruit, watermelon and peach, plus you get to choose which flavour bursting boba you want to add to your drink. Unlike traditional boba, which is tapioca-based, bursting or popping boba is made from colourful fruit juice using the spherification process. Apart from the delicious flavour, bursting boba adds an unexpected surprise and fun element to the drinking experience."
His brand has become the fastest-growing bubble tea chain in the country after only 18 months of trading. He plans on introducing his Rooibos bubble tea to other markets and has his eyes set on the US.
"None of the bubble teas I've tasted in America comes close to our Rooibos product, and the iced tea market there is huge. My aim is to transfer the bubble tea know-how and the best recipes possible, with our Rooibos staple at the top of the list," he says.
The bubble tea trend has turned into a global phenomenon, that's already taken big markets like Asia, the US, Europe and Australia by storm.
The tea even has songs and a range of emojis devoted to it! Already worth a whopping US$ 2.2 billion, experts predict the market to reach US$ 3.4 billion by 2027.
Adele du Toit, spokesperson for the SA Rooibos Council (SARC) says the rising consumption of tea and tisanes as nootropic or functional drinks among consumers has been a key factor for market growth.
"The combination of Rooibos with fruit in bubble tea provides a rich source of antioxidants that strengthens the immune system, boosts energy, reduces inflammation and improves cardiovascular health.
"Rooibos bubble tea also offers a different taste than what consumers are used to. The variety of flavours and toppings make it easily customisable, which adds to its appeal. All the ingredients come together to create a delicious and nutritious drink.
"Apart from its unique taste, it's also really affordable," says du Toit.
If you're looking to try something different this Heritage Day, give a Rooibos bubble tea a try.