Movies that will put your LG sound bar through its pace
A fully immersive, memorable cinematic experience is incomplete without high-quality sound. Whether it's catching all the finer details of a film's soundscape or losing yourself in the splendour of a perfectly curated film score, great sound takes a movie from good to unforgettable.

And Dolby Atmos is the mark of the ultimate sound. This object-based surround sound format has revolutionised cinema sound by enabling true 3D audio. Where traditional surround sound only allows for sound to be placed from left to right, or forwards and backwards, Dolby Atmos adds height to the spatial dimensions of a sound system. This means individual sounds can be placed overhead as well, so it really feels like you're right in the middle of whatever's happening on screen.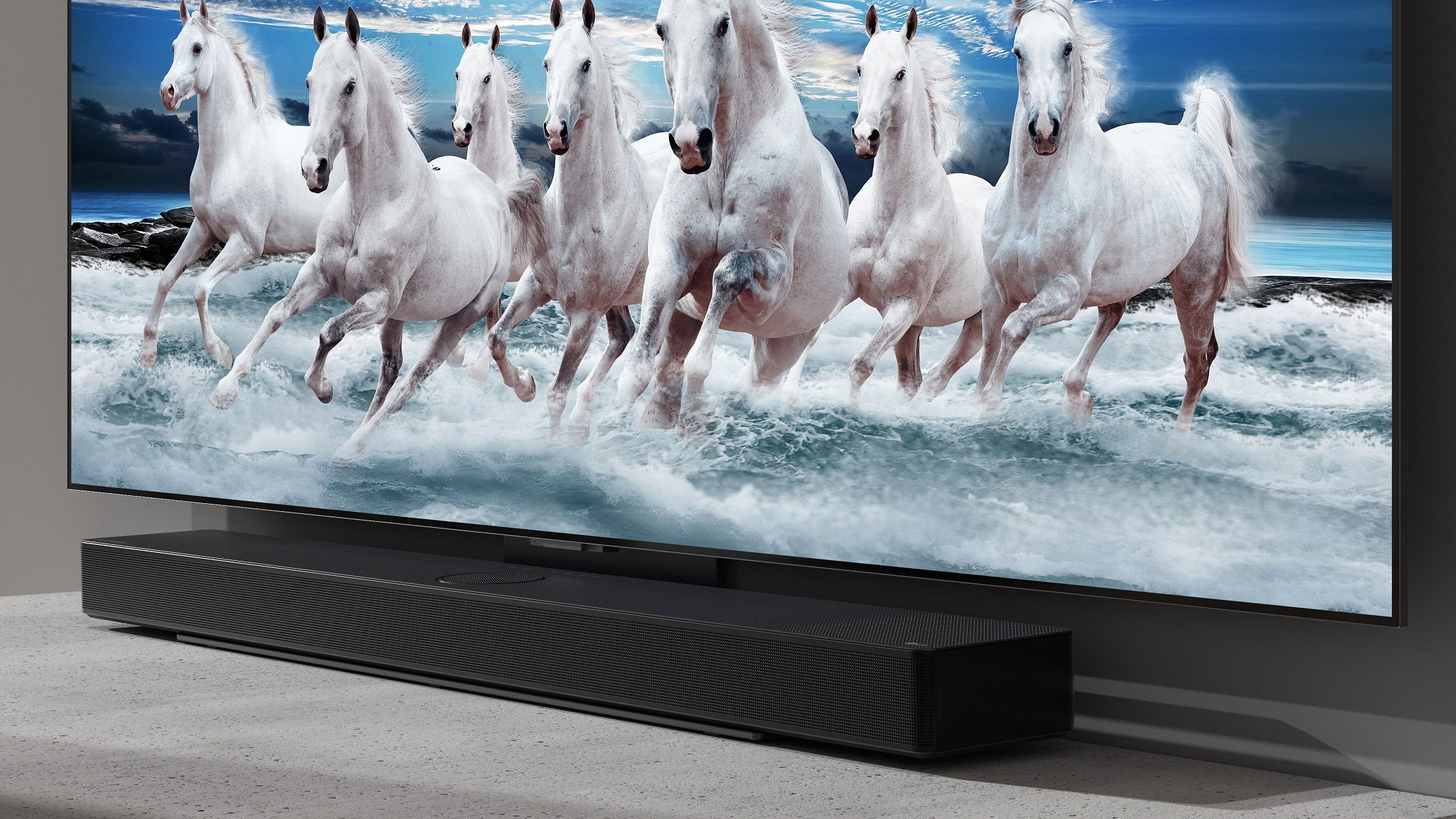 Soundbars that take movie night to the next level

An LG soundbar is an excellent space-saving choice if you're looking for high-quality sound for your home entertainment system. These horizontal speaker systems can be placed directly under a TV while still delivering that sought-after surround sound effect. This effect is achieved by up-firing speakers that bounce the sound off the ceiling and back to the listener, creating the illusion of sound height.

LG offers a variety of award-winning audio options, with the LG S95QR being the brand's flagship soundbar from its 2023 line-up. It boasts 9.1.5 channel audio and comes complete with a dedicated subwoofer and two six-channel wireless rear speakers. It features the world's first triple up-firing channels, crafted specifically for Dolby Atmos content. Dolby Atmos recognises up to 118 unique sound objects and places them individually across the soundscape of your living room, meaning that sounds like voices, instruments, or sound effects are more isolated and distinguishable. This feature-packed soundbar also offers everything from AI Room Calibration to a TV Sound Mode Share feature that allows you to pair it with your LG TV to enhance its sound.

If you're looking to put the LG Soundbar to the test, here are some award-winning movies to watch:

Elvis (2022)Baz Luhrmann's interpretation of the King of Rock and Roll's complicated life story is a theatrical masterpiece. From the flamboyant cinematography down to Austen Butler's ovation-worthy performance, this movie will have you glued to your screen. But aside from the visual extravaganza, it also boasts an award-winning film score, a fitting achievement for a movie centred around music.

*Available on Apple TV and Google Play Movies

The Batman (2022)The Batman was one of 2022's most anticipated films and it didn't disappoint. Fully embracing the sinister DC universe, Matt Reeves' take on the iconic superhero is gloomy, gritty, and dark in all the right ways. This movie was nominated for multiple prestigious awards, including an impressive Academy Award nomination for Best Sound.

*Available on Apple TV and Google Play Movies

Spider-Man: Into the Spider-Verse (2018)Spider-Man: Into the Spider-Verse has a near-perfect score on popular review-aggregation website, Rotten Tomatoes. The movie won over 40 awards, including the Academy Award for Best Animated Feature in 2019, and was nominated for multiple others, including a Grammy for Best Compilation Soundtrack for Visual Media. This action-packed animation delivers old-school superhero charm that you'll adore. It also features one of 2019's catchiest songs, Post Malone and Swae Lee's 'Sunflower', that'll make you want to get up and sing along.

*Available on Netflix, Apple TV, and Amazon Prime

Dune (2021)This epic sci-fi drama is a cinematic sensation that's been listed as one of 2021's top films. Dune nabbed multiple Academy Awards in 2022, including the Academy Award for Best Music (Original Score), courtesy of the legendary Hans Zimmer, as well as the Academy Award for Best Sound. Zimmer's score also won the film the Golden Globe Award for Best Original Score and a Grammy nomination for Best Score Soundtrack for Visual Media. So, if you're looking for a movie that really knocks it out of the park when it comes to sound, you can't go wrong with this one.

*Available on Apple TV

Soul (2020)Soul is a family-friendly, feel-good film that really tugs on your heart strings. This movie has that classic Pixar charm that you know and love, plus an excellent score. Not only did it win an Academy Award for Best Animated Feature in 2021, it also won the Academy Award for Best Music (Original Score). So, it's guaranteed to deliver some top-notch sound.

*Available on Apple TV

Your living room is the new cinema
Dolby Atmos has reinvented how entertainment is created and should be experienced. When you partner it with a quality sound system like LG's Soundbar, your living room is transformed into a cinema. These movies are known for their incredible sound and will really put your soundbar to the test. Luckily, LG's soundbars are up for the challenge.