Based in the heart of Robertson in the Western Cape, Rialheim celebrates its ten year anniversary on the 1st of December 2022. In celebration of rounding off their first decade, founder Rial Visagie and his team are introducing a brand new textile collection called Tactile Futures to their growing lifestyle offering.
Known and loved for their characteristically fun ceramic creations, Rialheim have spent the past year breaking into new territory. Boldly experimenting beyond the medium of clay, textile design was one of the avenues they were most excited to delve into. Today, they're proud to present their first-ever collection of scatter cushions and textile designs, marking the dawn of a textile adventure.
Upon embarking on the less-travelled lifestyle route, Rialheim were curious to explore the endless possibilities of textiles, both in terms of pattern and product design. This, they say, is just the beginning and they plan to keep on pushing boundaries within this space.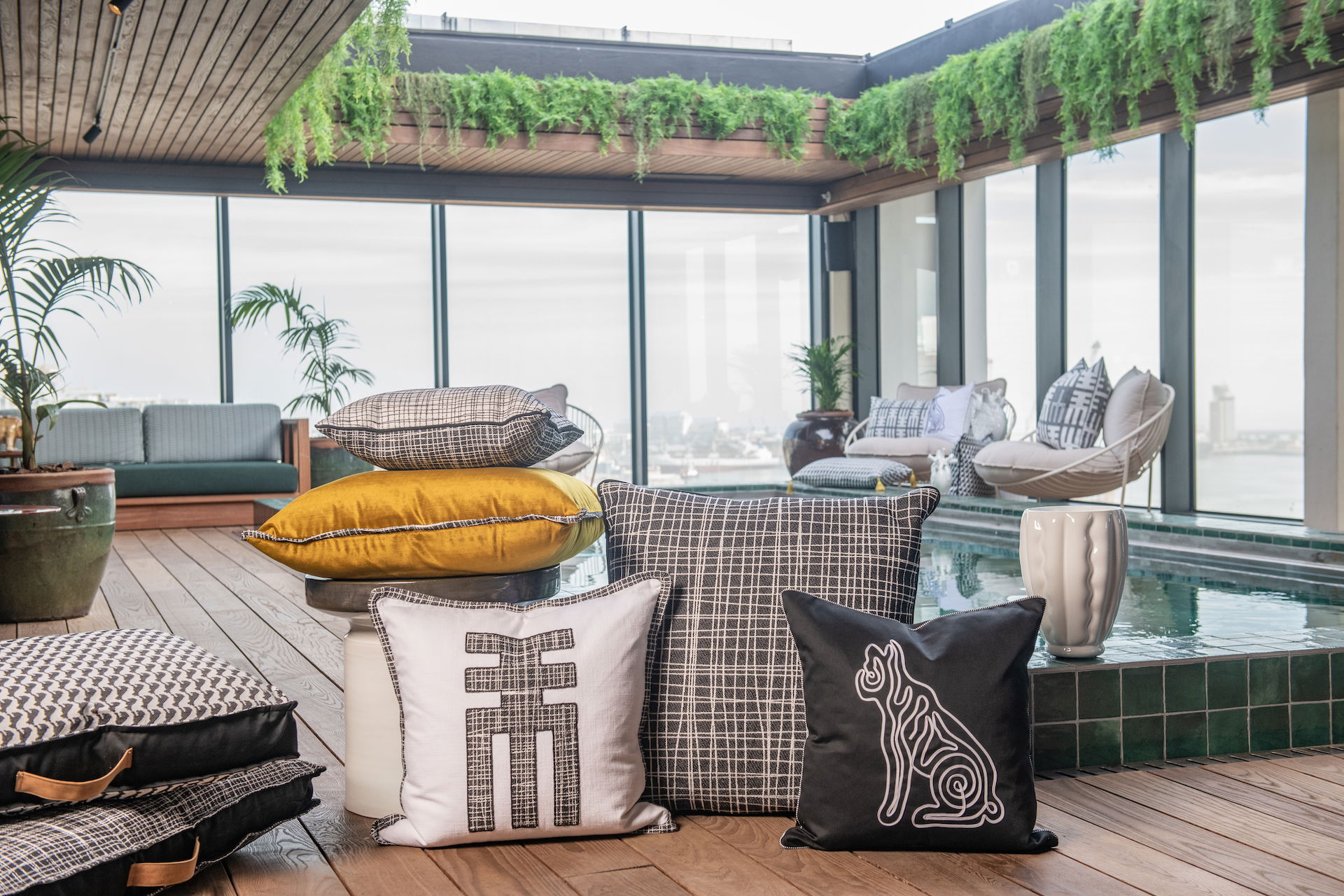 For their maiden collection, Rialheim have collaborated with artist and designer Tarien Bruwer, whose bent for the woven form is well-known. Tarien has been a long-time friend of Rialheim starting with an internship with the brand years ago whilst studying design in Cape Town. As such, their collaboration is a full circle moment, not only in terms of their friendship, but the united creative process too, where playing with patterns and graphics was fairly novel territory for Rialheim.
"During the manufacturing process we felt strongly about using local suppliers exclusively.We have formed incredible relationships in the process and have deepened our passion and awe for the craft community in our country," they say. Locally woven with yarns of extremely high quality, these are more than just scatter cushions…they're investment pieces and works of art with impressive longevity.
The Tactile Futures collection includes a range of scatter cushions in plains, geometric, linear and pooch perfect designs in a pared back palette of monochrome and saffron as well as a dog bed fit for canine royalty. Tassels, borders and applique details are just some of the finishing touches that render the collection a cut above.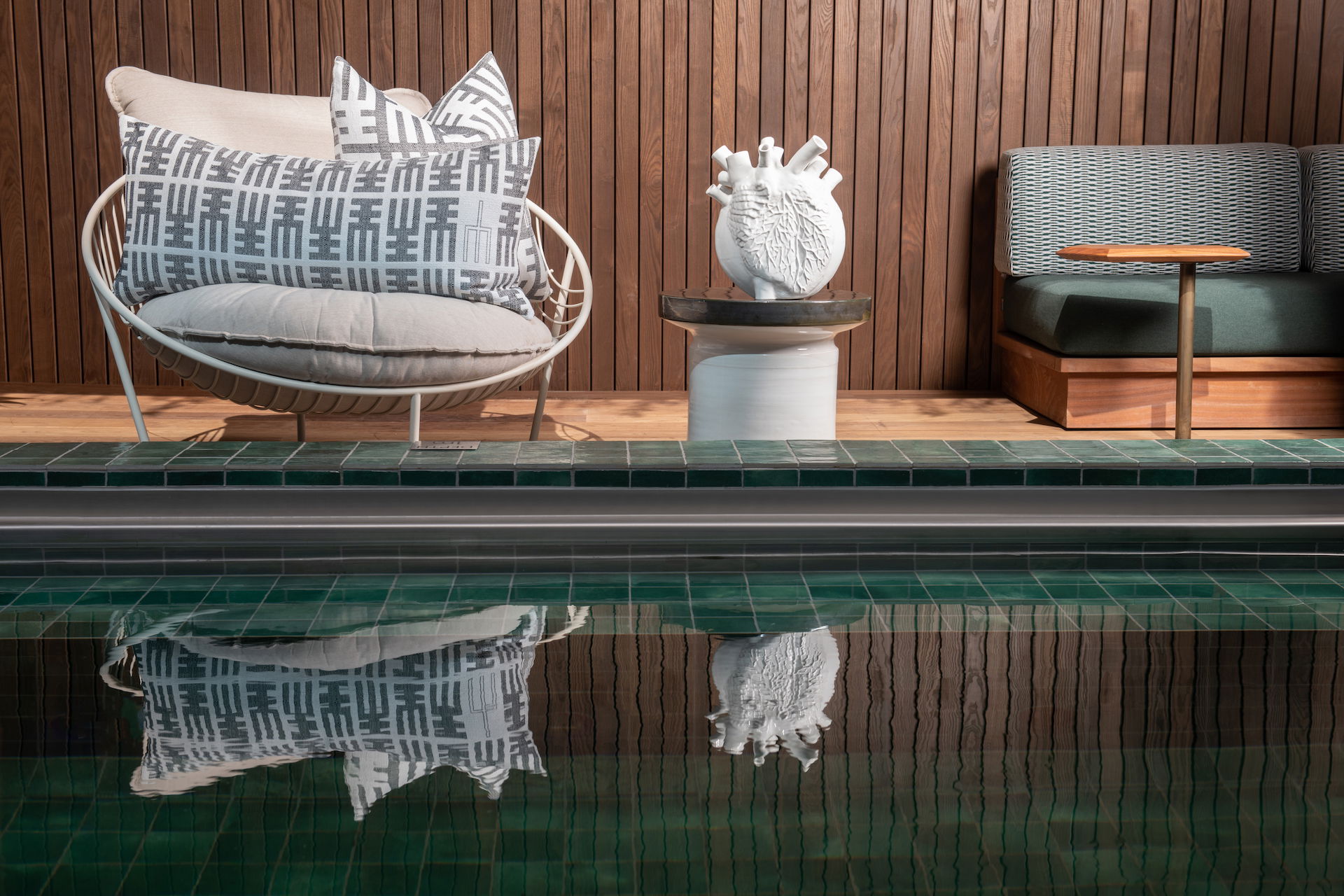 THE SCRATCH
Inspired by the hand crafted texture on some of Rialheim's classic ceramic products, they wanted to convey the organic scratched lines onto one of their fabric designs. They love the relaxed, human and warm feeling it gives. This cushion will have two different sides giving you options to play with and style in your home. A timeless design that won't date and will mix and match well and interestingly with all other pieces in this collection.
THE RIALHEIM TOTEM & PATTERN
Our brave new totem represents Rialheim's 'Imaginary World' and with this totem they celebrate their past while simultaneously looking towards the future. They've delved deeper into what they perceive the nucleus of imagination to be: an escape that defies the every day, the ordinary. This is a bold pattern infused with the energy of bravery.
THE COLOUR BLOCK PATCHWORK
Designed to be the hero, the statement piece of the collection. This one is for thoselooking for something unique and with character. An interesting mixture of texture serves asa visual feast for the eyes while breathing life and warmth into any space.THE FRENCHIE HOUNDSTOOTHA classic reinvention inspired by the brand's beloved Frenchie, Frankie, their forever muse.This pattern has a quirk that's meant to delight and add fun to any curation of scatters.
THE ABSTRACT FRENCHIE
A striking statement piece that will no doubt be an eye catching conversation starter.
THE FRANKIE
Created in honour of man's best friend. An inviting centrepiece that will instantly add character and humour to your home.
Find them at select @homelifestyle stores, Egg stores, Rialheim's Rand Steam store, Rialheim's new Rockerfeller store in Cape Town's Green Point and from www.rialheim.co.za.