In luxury bathroom design, every element must harmonise to create a space that exudes opulence and sophistication. AXOR, the vanguard of luxury bathware, has once again redefined the boundaries of design by ingeniously transforming a mundane fixture into an object of artistic ingenuity – introducing the AXOR Drain. This innovation reinvents the shower drain, turning it into a design centre piece that seamlessly integrates with the AXOR bathroom collections.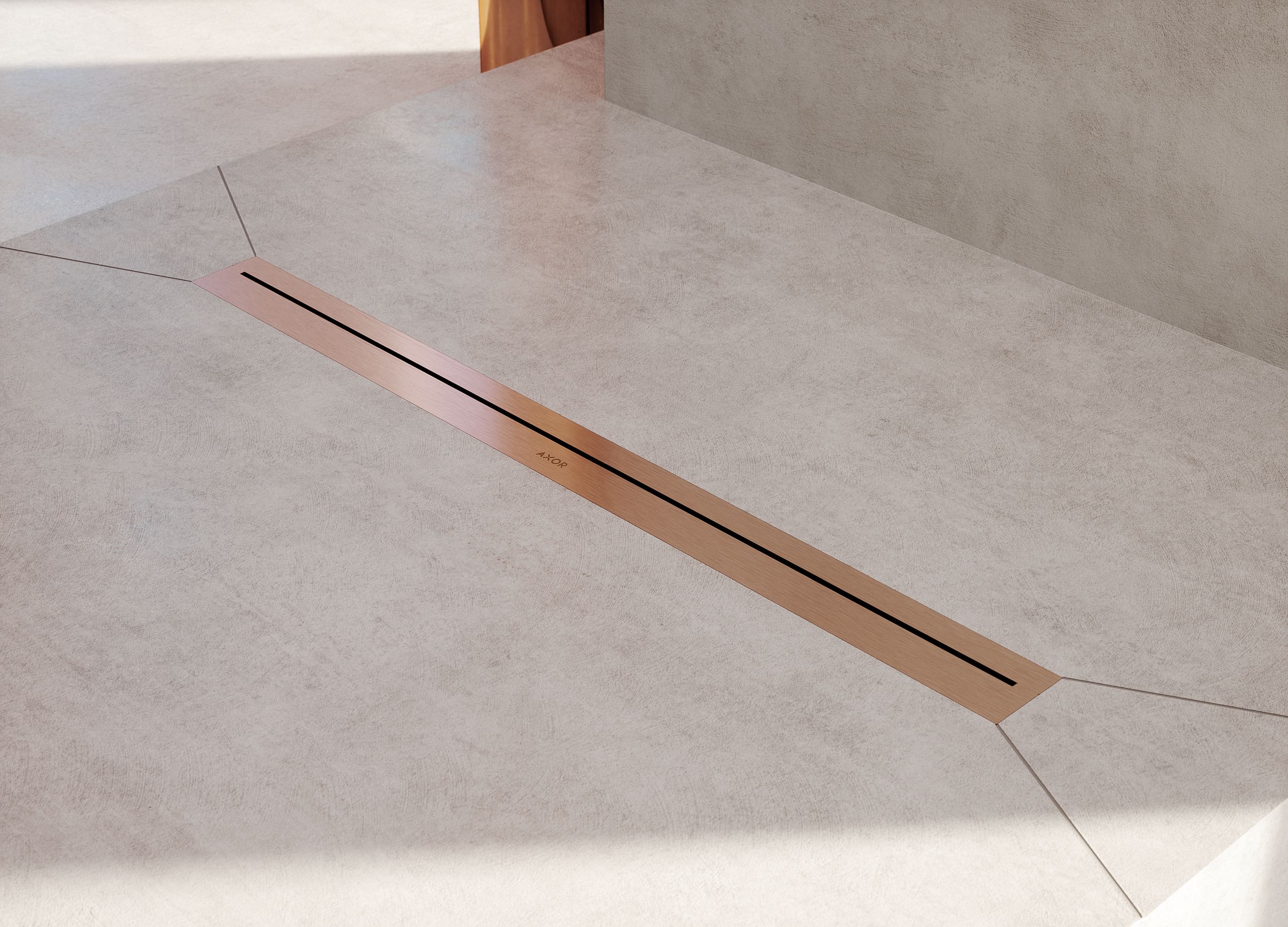 A Marriage of Aesthetics and Functionality
The AXOR Drain is a testament to the brand's commitment to merging aesthetics and functionality. Available in an array of AXOR FinishPlus colours and surfaces, this luxurious creation encapsulates the spirit of individuality while delivering exceptional functionality. Crafted with precision and imbued with innovative technology, the AXOR Drain epitomises the marriage between art and engineering.
Seamless Aesthetics
The sleek and seamless appearance, devoid of visible silicone joints, effortlessly harmonises with an array of shower floor surfaces – from the timeless elegance of marble to the rugged allure of slate. Its minimalist exposed rectangular design cover, available in a rich spectrum of AXOR FinishPlus PVD surfaces, as well as classic Chrome and the refined Matt Black or Matt White finishes, adds a touch of contemporary elegance to any bathroom setting.
Unparalleled Installation and Accessibility
Innovation and user-friendliness converge in the AXOR Drain's installation process. Built with the highest quality standard, the drain is easy to install and a breeze to maintain. Its ingeniously concealed silicone joints ensure seamless integration with the surrounding materials, while the included grate lifter allows for effortless removal. The AXOR Drain offers two installation versions – the in-floor and wall-mounted options – ensuring a bespoke fit that caters to your design aspirations.
Choice and Efficiency: The Power of Selection
Personalisation takes centre stage with the drain's choice-driven design. Users can opt for the pre-installed standard Siphon or indulge in the cutting-edge technology of the included Dryphon. The Dryphon's self-opening silicone membrane boasts a high flow rate of up to 55 litres per minute, preventing buildup and drastically reducing the need for rigorous cleaning. This innovative drainage solution enhances the aesthetic appeal and elevates the practicality of your luxury bathroom.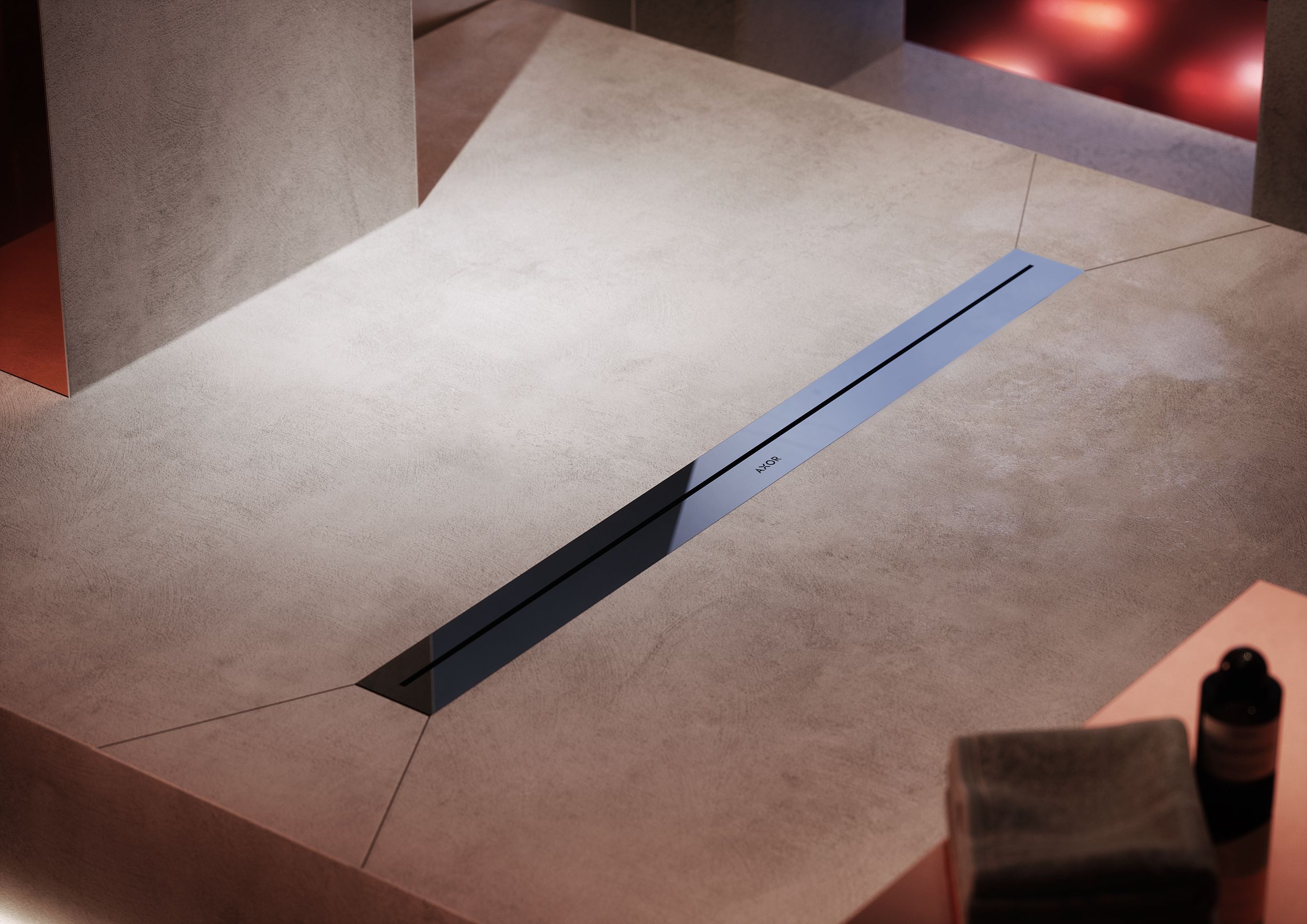 Empowering Your Design: uBox Integration
The AXOR Drain seamlessly integrates with the uBox – a height-adjustable, leak-tight drainage basic set designed to accommodate all AXOR products. Available in three variants tailored to meet global standards, the uBox empowers architects, interior designers, and discerning renovators to bring their creative visions to life without compromise. In luxury bathroom design, where every detail matters, the AXOR Drain embodies innovation, meticulous craftsmanship and class. As architects and interior designers seek to redefine the concept of luxury, AXOR has once again risen to the occasion, transforming the ordinary into the extraordinary. With the AXOR Drain, the shower drain is no longer an afterthought but a central masterpiece, showcasing the unparalleled artistry and grandeur that only AXOR can deliver.
AXOR. Form follows Perfection.