Design the perfect sustainable bathroom
Sustainability is playing an increasingly important role in the way we think and act, leading to changes in the way that we live. As a rule, the home offers great potential for optimisation that sees a positive impact on both the environment and the energy bill. Measures can also be implemented in the bathroom to help us live more sustainably and protect important resources. As recently as October 26th 2022, South Africa's National Water & Sanitation Department has urged citizens to use water sparingly as water levels continue to drop*. In Germany, the Federal Ministry of Economics and Climate Protection is currently running the "80 million together for energy change" consumer campaign, which highlights the energy-saving potential of clever technologies in the bathroom.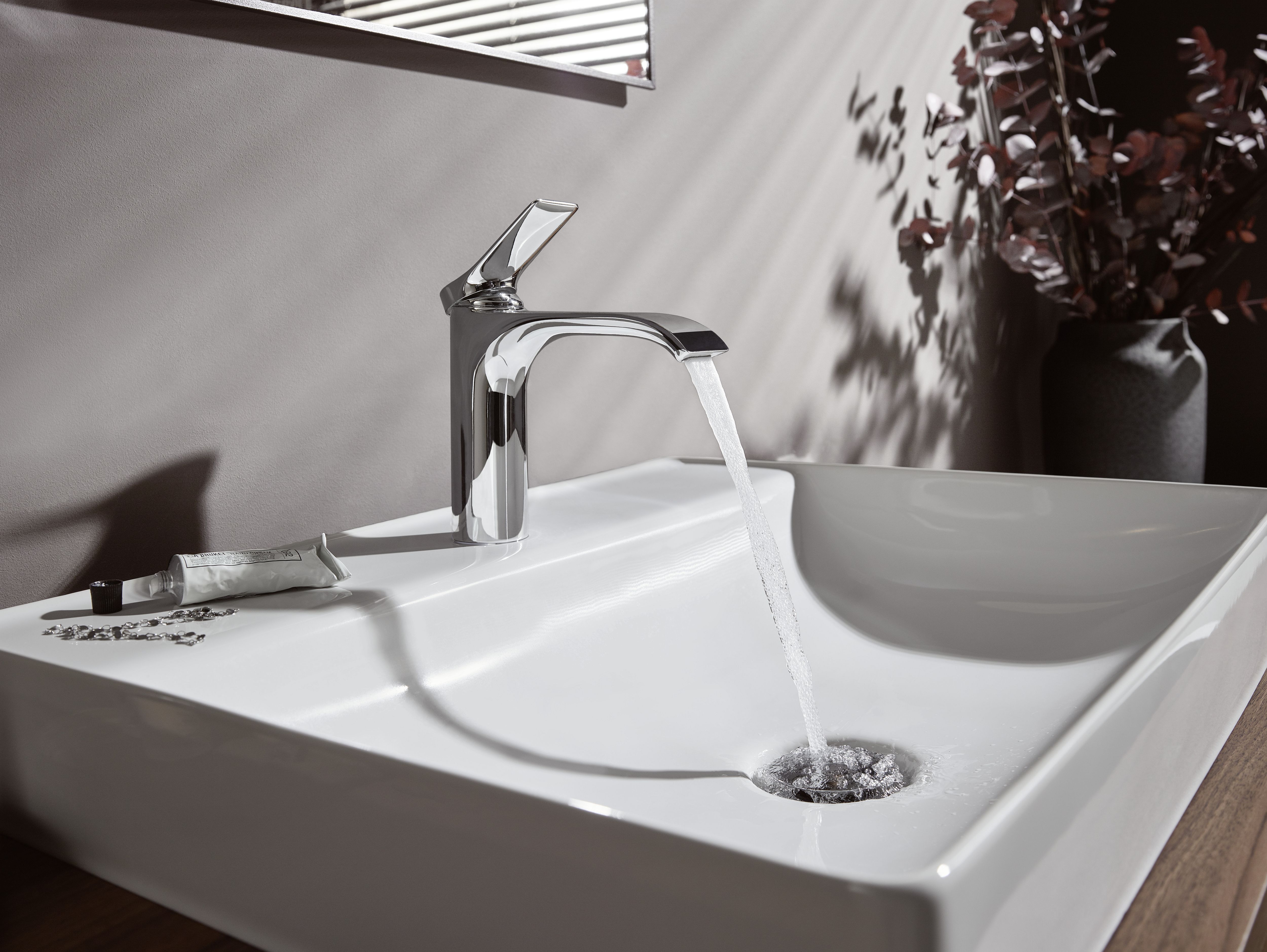 Design the perfect sustainable bathroom
Using a water-saving hand-held shower, such as the hansgrohe Raindance Select S, with EcoSmart technology and a flow rate of just 8.5 liters per minute, can save around 1,541 kWh in one year**. This is equivalent to 8% of the total energy consumption of a four-person household. EcoSmart and CoolStart products also reduce hot water-related energy consumption, as less total water consumption means less hot water consumption.
Smart Showering: hansgrohe EcoSmart
The hansgrohe EcoSmart hand-held showers feature a special flow control. Only around 8.5 liters of water per minute flow through the specially developed, innovative spray nozzles. The showering pleasure is nevertheless convincing: thanks to fine spray types such as the pleasant PowderRain spray, the amount of water is used particularly efficiently and cleverly. Simply installed, they are easy on the environment and on your wallet in no time at all. Thanks to their timeless design and availability in various finishes, the EcoSmart variants of the Pulsify Select S, Raindance Select E and Crometta hand-held showers fit harmoniously into different bathroom styles. This also visually maintains the feel-good atmosphere in one's bathroom retreat.
Basin mixers done right: Vernis & Vivenis
Designed by globally-recognised Phoenix Design, the Vernis range is a newer addition to the hansgrohe family, first coming to shelves in 2021. The range comprises two sleek variants; Vernis Blend and Vernis Shape. The Blend's slender, cylindrical body flows gently into the spout just like the water it carries, creating a perfect harmony between handle and spout. The Shape features a more geometric, square design, with precise edges and symmetrical beauty. With built-in EcoSmart technology, the Vernis range cuts down on both energy and water usage, making it the environmentally-friendly choice that will also save you money in the long term.
The Vivenis range portrays the beauty and simplicity of a clear mountain spring in harmony with nature. The combination of the delicate handle with the extremely wide, flat spout emphasizes the natural simplicity of the faucet. The innovative aerator with AirPower technology enriches the water flowing out with air. This WaterfallStream creates gentle and full-bodied water droplets. Most importantly, the EcoSmart technology ensures a base consumption rate of five liters per minute. The hansgrohe Vivenis faucets are available in three finishes: Chrome, Matt Black, and Matt White.
Make your own perfect match
With several water-conscious choices at your fingertips, there is nothing stopping you from creating the bathroom of your dreams, reducing water wastage, helping the environment, and saving money – all at once. That is the power of hansgrohe.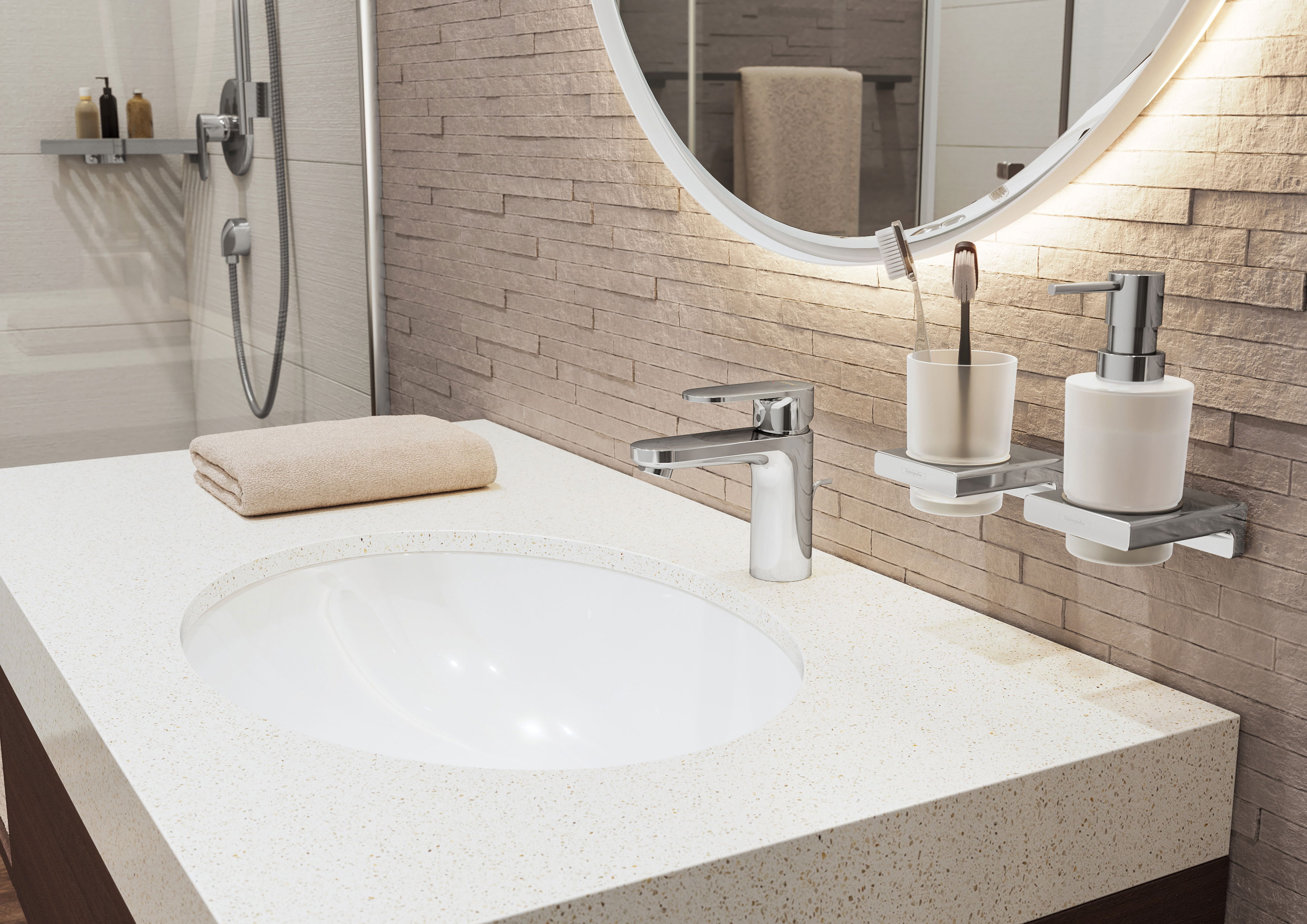 * https://www.gov.za/speeches/water-and-sanitation-urges-south-africa-use-water-sparingly-water-levels-continue-drop-26
**Energieverbrauch für Warmwasser und Heizung: 18.000 kWh pro Jahr https://www.eon.de/de/pk/erdgas/gasverbrauch.html
hansgrohe stands for innovative solutions for kitchens and bathrooms that combine intelligent functionality, outstanding design, and enduring quality. Based in Germany's Black Forest region, the internationally active Hansgrohe Group sells premium products for showers, shower systems, bathroom and kitchen taps, and kitchen sinks under the hansgrohe brand. hansgrohe stands for great moments with water since 1901. With its many award-winning products, this traditional brand shapes the flow of water in the kitchen and the bathroom. Because this is where people spend the time they treasure most and experience precious moments in the interaction with water. hansgrohe stands for Smart Living applications that enrich people's everyday lives and offer them more functionality and safety in their homes. hansgrohe. Meet the beauty of water.