The AXOR Shower Range is more than a collection of plumbing products; it is a statement of status. Boasting unrivaled innovation across two dozen choices, their intuitive functionality and flawless design will elevate your bathroom into the echelons of royalty.
The range comprises of overhead showers, side showers, hand showers, modular shower systems, shower pipes, thermostatic mixers, and state-of-the-art control units with AXOR's Select technology. The range was designed by no less than six top design groups, including the household names of Antonio Citterio and Phillipe Starck.
The options within AXOR's ShowerCollection mean that you can select the style of your choice, folding different elements together to produce the perfect bathroom for your home. The brilliant design means the range is easy to install and elements can be arranged horizontally, vertically, in groups, or as solo pieces.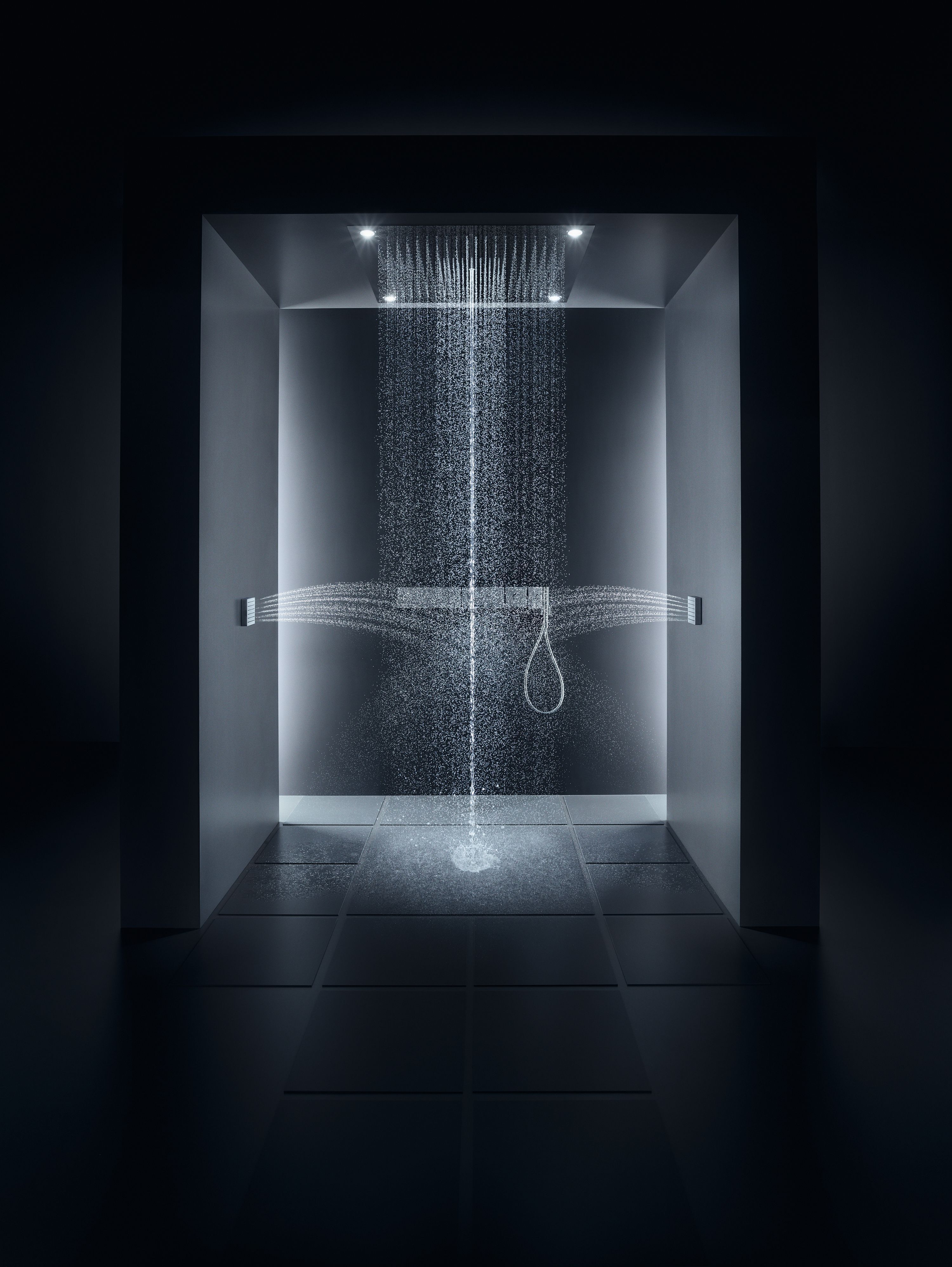 A Retreat from Stress
Your bathroom is an ideal place to relax and to wash the stress of the day from your body. After a long, tiresome day, you want to retreat to the comfort of hot water, steam, and soap, so that you can return to the outside world radiating with peace.
AXOR ShowerHeaven is considered the ultimate overhead shower experience, with three spray types that can be used separately, or all at once. The options are the soothing Rain spray, the streamlined Mono spray, and the popular PowderRain, which envelopes the body in millions of micro-fine droplets. Designed by the experts at Phoenix Design, the ShowerHeaven comes in Chrome and up to 15 different AXOR FinishPlus options.
Designed to Calm and Rejuvenate
Your shower experience should be just that: an experience. An experience that calms the nerves, soothes the soul, and rejuvenates the body. AXOR ShowerSelect focuses on the concept of 'hidden technology, visible convenience'. This range of thermostatic mixers come in Soft Cube, round, or square variants and enables the pre-selection of temperatures at the touch of a button. This makes finding the perfect temperature and pressure as simple as pressing a button. Bliss.
Still Good Looking
The entire overhead shower range from AXOR has had input from multiple designers, resulting in a beautiful mix of styles to suit your taste. With circular and square designs, and a variety of sizes, the real innovation is featured on the shower plate with nozzles that retract when the water is turned off. This results in a smooth, immaculate surface that harmonises with the overall design.Whatever your preference, if you are looking for the elegance of nobility in your household, AXOR is your best choice of shower.