The perfect companion for hosting these holidays
The holiday season in South Africa means beautiful summer days and sublime summer nights. It means family, festivity, and joy. It is a time when the kitchen becomes the busiest room in the house as you prepare drinks, meals, and more for your constant barrage of guests. Bring beauty into your home this festive season with the perfect mixer for entertaining; the Talis M54.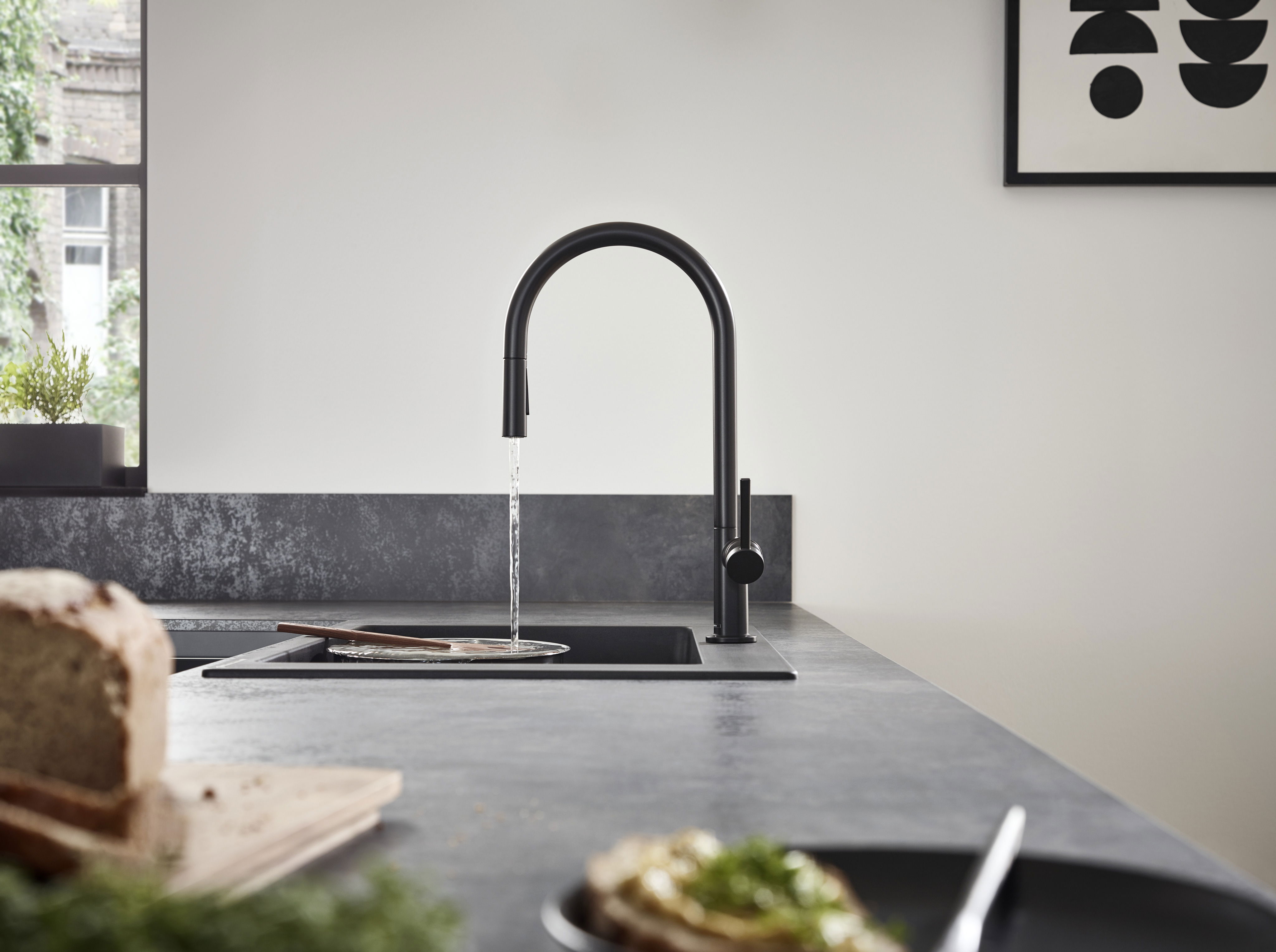 Elegant and Efficient
The Talis M54 single lever mixer boasts an elongated design with a slender pin handle that embodies the concept of elegance within the kitchen. The minimalist style on the mixer surreptitiously entices the user without the distraction of big, clunky faucets. The matt black finish suits the modern dark kitchen, while the classic chrome will look like part of the family in all colour schemes.

The award-winning design of the Talis M54 includes a large comfort zone and a swivel range of 360° so that you have plenty of space for work processes at the sink. The clear laminar jet flows at 7 litres per minute and is perfect for filling containers quickly and efficiently without splashing.

The pull-out spray hose has a range of 50cm, meaning you can fill much larger containers around the sink with the same level of efficiency. A secondary shower mode works at a water-conscious 3.5 litres per minute and is perfect for washing vegetables without bruising them. QuickClean technology means that you can easily wipe grime and limescale from the Finish to keep your kitchen sparkling.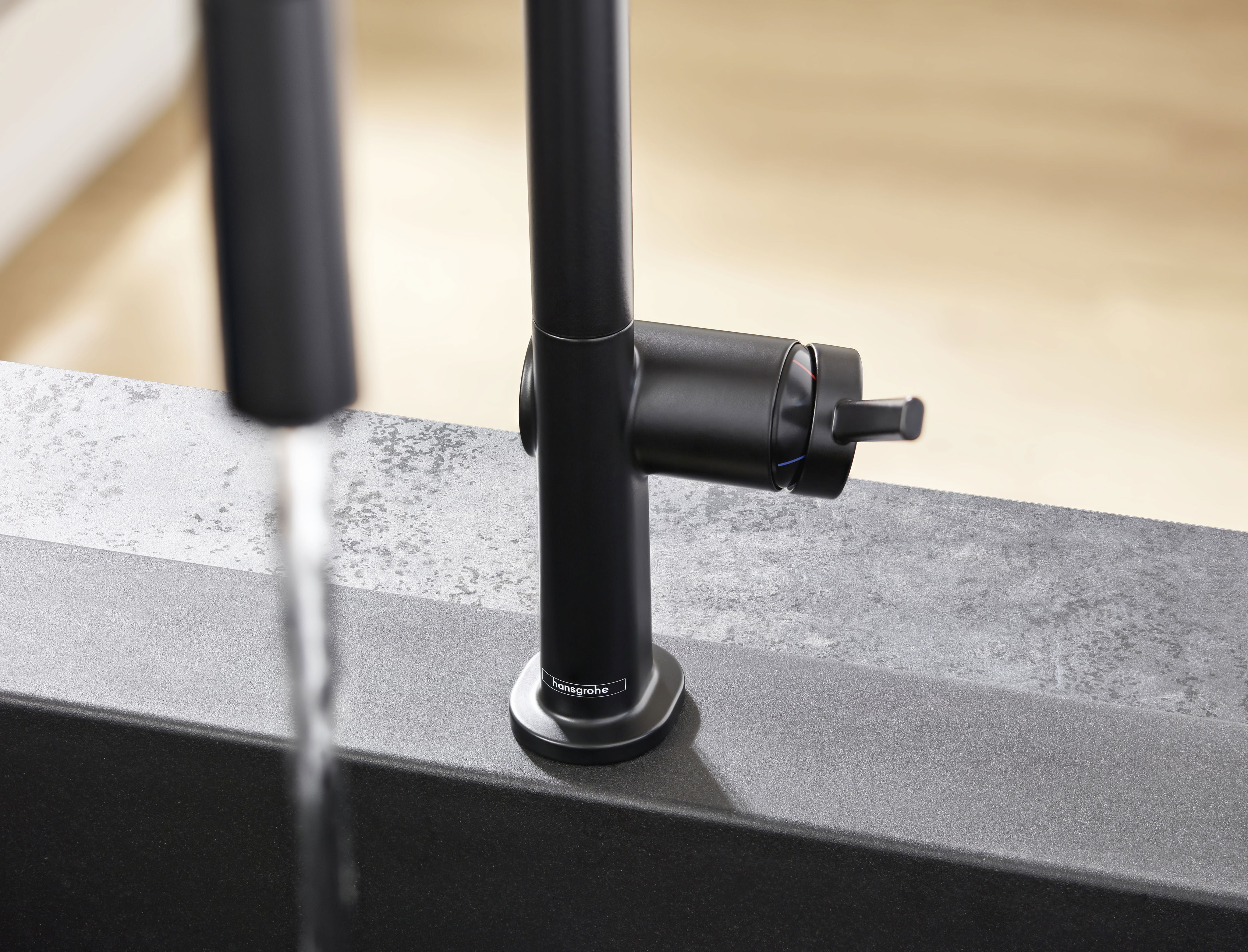 A Great Range of Extras
hansgrohe's range of cutting boards are the perfect partner for your Talis M54. Built to be entirely compatible with hansgrohe's sinks and mixers, these cutting boards feature a guide groove so that it holds in place or can be moved along the sink. On a double basin, the board completely covers the smaller sink to work as an additional shelf. This will help with preparing fruits and vegetables for your guests and keep other parts of the kitchen free for other endeavours.

Available in 20mm oak or walnut and treated with an abrasion-resistant hard oil glaze, these boards have very little impact on your knives, helping them to last longer as you chop away. Along with the cutting boards, hansgrohe offers a range of sieves and draining boards that are all designed to sit comfortably on your basin. These delightful extras will make your holiday cooking easier than ever before!

Ends.

hansgrohe stands for innovative solutions for kitchens and bathrooms that combine intelligent functionality, outstanding design, and enduring quality. Based in Germany's Black Forest region, the internationally active Hansgrohe Group sells premium products for showers, shower systems, bathroom and kitchen taps, and kitchen sinks under the hansgrohe brand.
hansgrohe stands for great moments with water since 1901. With its many award-winning products, this traditional brand shapes the flow of water in the kitchen and the bathroom. Because this is where people spend the time they treasure most and experience precious moments in the interaction with water.
hansgrohe stands for Smart Living applications that enrich people's everyday lives and offer them more functionality and safety in their homes.

hansgrohe. Meet the beauty of water.