Before taking to the skies, it's important to adequately prepare and organise yourself for a flight. Whether you're travelling for business or leisure, here are some key factors to be aware of before setting off for a smooth, stress-free journey.

Give yourself the luxury of time
Ease travel nerves by getting to the airport well ahead of departure time. While many airlines allow passengers to book their seats in advance, the queue to check in luggage can sometimes grow to terrifying lengths.

Emirates passengers have the advantage. There's a dedicated check-in desk at Dubai International Airport for Premium Economy fliers, allowing for swifter and more convenient check-ins. Passengers in Dubai can take advantage of multiple remote check-in options, including City Check-in and Travel Store in Dubai International Financial Centre (DIFC), , and Home Check-in.

While waiting to board, download the Emirates app and enjoy ice, the multi award-winning and world-class entertainment library of on-demand entertainment. The service allows you to browse and pre-select movies or TV shows on the app, which can then be synced to ice the moment you board, maximising the seamless travel experience. Enjoy hours of entertainment for all ages, including 1500 movies, 53 dedicated kids TV channels, hundreds of music, news and food channels, audiobooks, podcasts and up to 100 video games, which can be played by two players in different seats if it's a multi-player game.

With so much entertainment to sift through, you'll need every second before boarding to finalise your playlist!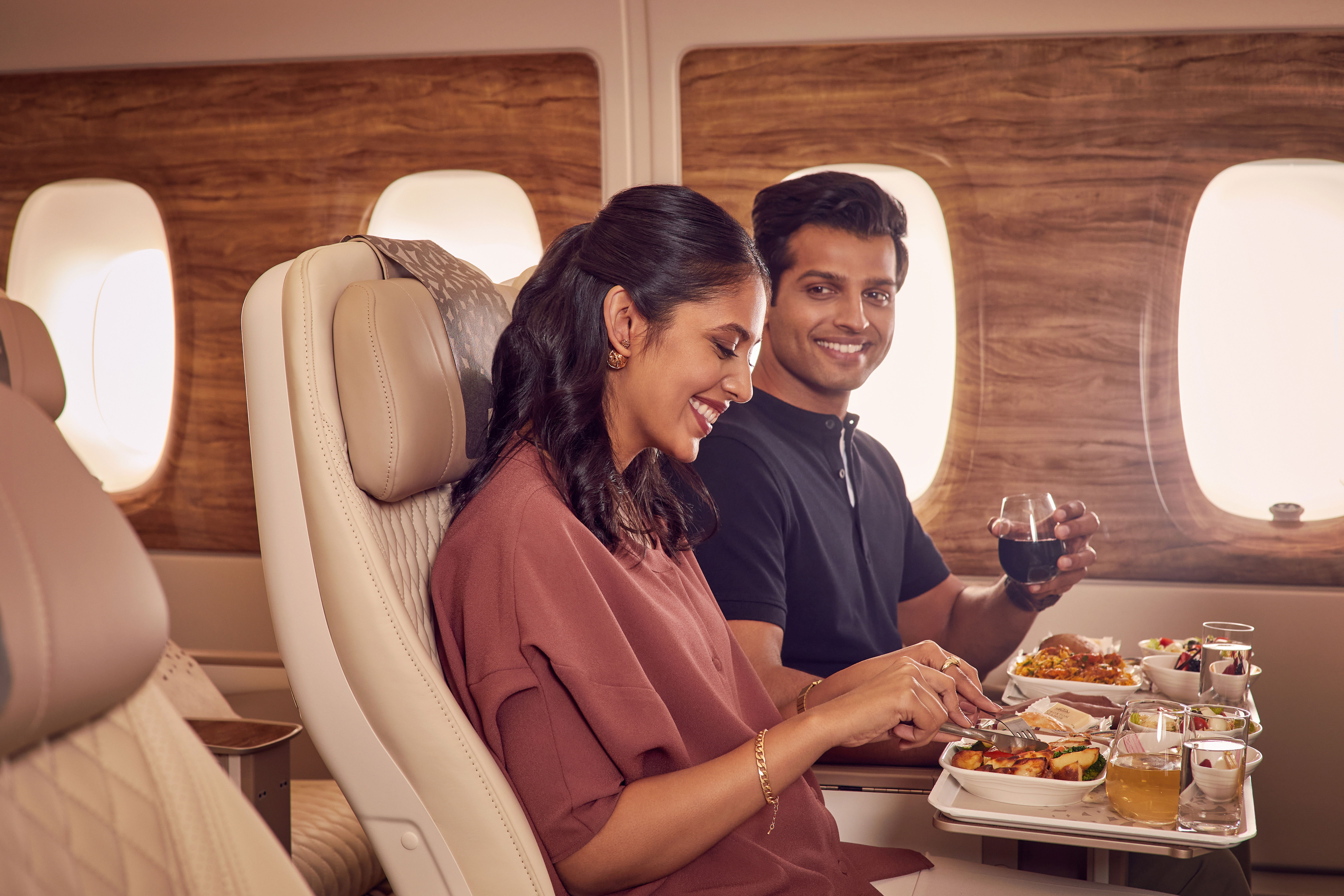 Practise relaxation techniques
Relieve negative thoughts and calm the body's natural stress response by practising meditation, deep breathing, or other forms of calming activities. Somethings like knitting, doing a crossword puzzle, or colouring can offer a sense of security, making you less anxious during the flight.

Another way to feel good during the journey is to stretch and walk around. Although activities like jumping jacks are discouraged on a plane journey, nothing is stopping you from walking up and down the aisle to get the blood flowing again. For Emirates Premium Economy passengers, legroom is no longer a concern. With 40 inches of legroom pitch, a seat that's 19.5 inches wide and 8 inches of recline, there's enough space to get up out of your seat whenever you need to stretch your legs, and the seats themselves feel more comfortable and less cramped.

Embrace comfort in the sky
On a long-haul flight, the last thing you want to be wearing is tight-fitting clothes. Stick to loose cuts, soft fabrics, and lots of stretch. You might even want to pack an extra outfit and fresh underwear to change into before you leave the airport at your final destination.

Speaking of extra packing space, Emirates Premium Economy offers travellers a generous 35 kg check-in baggage allowance and a 10 kg carry-on. This means more room for souvenirs and knickknacks from your travels, and enough space in carry-ons for everything you might need during the flight.

These days, airlines are prioritising the comfort of their customers. For Emirates Premium Economy travellers, this means soft blankets made from recycled plastic bottles, and generously sized pillows, both designed uniquely for this class.

Leave room for complimentary food
Some airlines go above and beyond in their food and drink offering. Emirates, for instance, makes their Emirates Lounges available worldwide for a fee, or offer complimentary access if passengers are a Gold, or Platinum Skywards member.

Elevating the experience is Emirates' commitment to upgrading travellers' in-flight dietary experiences. Premium Economy passengers can enjoy gourmet, regionally inspired menus with generous portions and a choice of main courses. The menu is revised monthly by Emirates master chefs, ensuring variety, even for frequent travellers.

Airplane travel doesn't have to come with a host of physical and emotional stress. From mastering pre-flight calm to conquering in-flight comfort, these hacks will make your trip easier and more enjoyable. Learn more about Emirates and its Premium Economy Class here: Emirates Premium Economy